Where do I even begin with my lip correction journey…
I found Dr Ranjbar (Hannah) on Instagram (as I have done most aesthetic practitioners) however, I am SO thankful I did and there really is no comparison when comparing to other practitioners
– she is all round in a league of her own!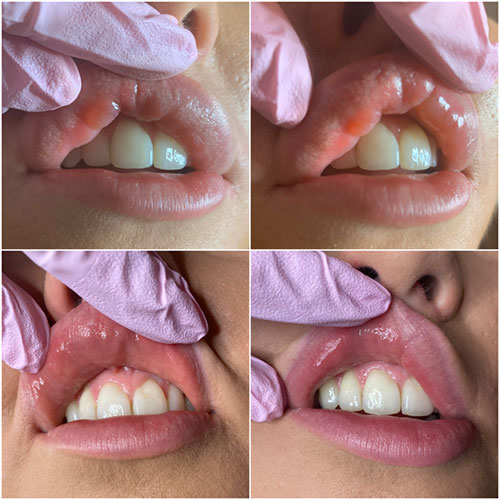 Background –
About 4 years ago I had filler in my lips (Juvederm Vobella) and had a couple 0.5ml top ups. I have also used other practitioners for other aesthetics and Hyalase to dissolve filler so I have a range of experience of the procedures / aftercare and different practitioners to compare with. 2 years ago I decided to use a different injector for my lips and it was from that moment which left me with awful lumpy duck lips. The moment I was injected I knew it was different and it wasn't right (even more so now I can compare to an extremely competent injector). Immediately after the procedure I had swollen ALOT and looked quite deformed. I was reassured it was the process and the swelling would go down. I did not bother going back to her for 2 reasons; the lumps I developed were bearable until around a year later and secondly for fear of what would go wrong next time if I went back to her. So now 2 years later and here I am writing about my experience with Dr Ranjbar.
Dr Ranjbar consultation / Botox –
Initially I went to Hannah for Botox. This was my first Botox procedure and from research I knew that the first time to not expect it to last as long as the regular Botox clients. However, with Hannah my Botox exceeded the usual timeframe and lasted around 5/6 months! Hannah displayed her knowledge in Botox brands vs their longevity to make sure she gives her clients the best for their money and not for her own profits. Hannah also explained the anatomy and placement of the injections very clearly along with the aftercare. From this moment, I knew I was with a great practitioner who evidently had great education and experience behind her.
After my treatment, we spoke about other fillers and I showed her the underside of my lips which displayed multiple lumps. She was shocked and was keen to want to help to try to remove the lumps (not for money but out of kindness) and offered to put a needle in whilst there to see what comes out. I had lived with these lumps noticeably for around a year and as time was passing, they were getting bigger as I used to chew/play around with them. However, the anxiety around even attempting to rectify them was too high so I did not proceed further with it.
From my first visit seeing Hannah I had a couple months debating whether I should correct my lips. I knew if I was going to allow anyone to do this, it would be her! Hannah is just so lovely and down to earth and made me feel at ease. Furthermore, amongst conversation you can gauge the extensive knowledge she has around the facial anatomy and aesthetics which definitely sets her apart from others. I then bumped into Hannah in my local town and I felt like this was fate as I had been trying to get the courage to contact her to schedule in that first lip appointment only earlier that day.
First appointment – manual extraction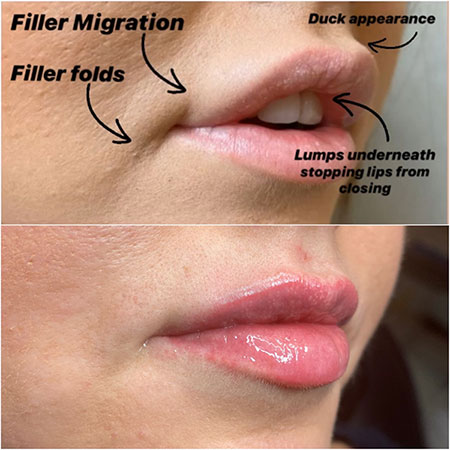 Hannah informed me how the filler I had "in my lips" was in-fact mostly NOT in my lips. I had very clear migration of filler into the skin above giving me an upwards protruding pout, filler in the side of my mouth creating folds and the underside/inside my mouth (the lumps).
I wanted to avoid using Hyalase to dissolve as I knew that would mean starting over again to build my lips bigger. Therefore, firstly we tried to manually extract the lumps underneath by putting a needle in and squeezing out the filler lumps. More than anything, at this stage I was anxious about what my lips would look like after the lumps had gone and if I would be left with excess skin. I had these filler lumps for so long they made my lips appear bigger than they were (not needing filler top-ups) and I didn't want to have small lips like I originally started with. I envisioned removing the filler would be like the videos you see where the filler squeezes out whole (not going to lie, I was quite looking forward to seeing it played back on the recording!). Unfortunately, I did not have that at all! It was blood mixed with tiny-tiny speckles of filler being squeezed out and although the lumps were smaller it was not the desired result. The filler had integrated deeper into the tissues and now we knew my lips were internally damaged worse than it first appeared and I needed Hyalase to dissolve.
Second appointment – Dissolving
This appointment was now for the Hyalase where I knew I was definitely going to be left feeling self-conscious with deflated lips but was a procedure I needed to have to start over again correctly. Initially I tried to avoid dissolving my lips but actually I knew in the long run this was what I needed – not only get rid of my lumps but to get rid of my protruding duck pout from migrated filler also.
Everything from start to finish with Hannah put me at ease and more than anything I cannot believe how painless the procedure was! I have had Hyalase before to dissolve filler in my jawline which felt like intense bee-stings so I was expecting much the same. I did not have any stinging sensations with the dissolving at all! In-fact I can say I did not even feel it at all. Prior to this appointment I was informed to familiarize myself with the swelling I could be left with after dissolving, so after watching some YouTube video's I was well prepared for the worst! Again, to my shock, it was a painless procedure and I only had noticeable swelling for around 4 hours and that's it! This was absolutely amazing and surprising as I was expecting to be house-bound for 4 days or so!
Third appointment – Refilling!
The best bit!
My imagination was running wild with the potential outcomes of my newly filled lips. After previous lip filler appointments, I usually would swell a fair bit and I was expecting the same with a long down-time period. Not to mention the last experience was my worst where I was unhappy and left with excessive swelling.
After spending time and money to rectify my lips I was anxious about the outcome and if they were to go lumpy and migrate again. Hannah explained migration was a possibility due to the migrated filler tracks had been deeply rooted and would have taken longer to fully close over (6 months – which I was not prepared to wait for). Hannah reassured she would do her best and was confident in her technique to avoid this. The injection techniques were explained to me which illustrated Hannah's expertise / competence and I fully trusted her!
The procedure – The numbing cream was put on and this stuff is good! Very strong and fast acting. She began re-filling my lips allowing me to frequently check in the mirror at intervals to see how it was going and allowed me to direct where I would like more filler. I found this really reassuring compared to other injectors who fill your lips quickly and to how they think is best and show you only after all the filler is used.
Understandably, the injector should know what is best for your lips, however I really feel this relieves anxiety for clients to be included in their procedure and to discuss the desired look you would like giving a chance to modify before all the filler used – Hannah did exactly this!
Despite having grown a large client base, Hannah allocates more than enough time to each client so you do not feel rushed or have anyone sat waiting for your appointment to finish which can add pressure to rush into decisions/procedures. Again, other practitioners are so quick to want to carry out the procedure and move on to the next and don't give each client the time and quality experience. I feel Hannah is person-centered and wants the best for her client's and is not looking to do the quickest / profit making option, she genuinely cares about if her clients are comfortable and achieving the desired outcome no matter how long it takes.
Furthermore, she is so sweet and will contact you to check if everything is okay days after your appointment. This is something which I have not experienced before as other practitioners tend to forget you once you have walked out the door unless you contact them. Hannah strives for perfection and to make sure her clients are satisfied. Since my refilling I have been back to Hannah again a couple times for another total of 0.7ml of filler to reach my desired look and they are perfect!
Conclusion
I highly-highly recommend Hannah for all procedures! My Botox was great and long-lasting and I definitely cannot see myself going to anyone else for my lip fillers now. I genuinely feel she is the queen of aesthetics! Down to earth, calm and reassuring, no pressure, extensive anatomy and aesthetic knowledge delivering painless procedures with absolute minimal swelling! Cannot fault her in any way! I never write reviews for practitioners but I feel this one is well deserved and if anyone is anxious or considering aesthetics or correctional work – this is the place to go! I have experienced the drastic difference between a short course injector/nurse compared with a doctor's knowledge and experience. Hannah genuinely cares about her clients and their results and offers the best injecting techniques! The vast knowledge and experience which Hannah has allows her to adapt techniques according to each client's anatomy – not just a standard technique which others would use on all clients. Hannah's prices are not extortionate like some other Harley Street doctors can be which I understand encourages the use of cheaper practitioners. Therefore with L1P you are getting Doctor's quality procedures at a reasonable price! Please do not go to others for their extra cheap prices – there is a reason they are cheap!
Thank you so much Dr Hannah Ranjbar 😊 xx