Profhilo Treatment
Profhilo has taken off in popularity over the last few years and is fantastic at treating skin that is lacking in volume and elasticity. It's a safe, effective and long-lasting alternative to expensive skin creams and treatments. So, if you are looking to restore a younger look and feel of your skin, then Profhilo might just be the answer you're looking for.
What is Profhilo
Profhilo is a bio remodelling agent. The compound itself is stabilised hyaluronic acid that is injected into the skin to reduce laxity in the skin. Profhilo is one of the most highly concentrated doses of hyaluronic acid (64mg HA per 2ml syringe) available on the market today.
It contains a combination of both high (H-LA) and low molecular weight hyaluronic acid (L-HA), bound together thermally with patented NAHYCO technology. The two types of hyaluronic acid are linked to create a compound with far greater longevity than either used alone.
While this might sound scary, hyaluronic acid is something that you find naturally in your body. Its also present in foods you eat like root vegetables, soy, leafy greens and citrus fruits like oranges. It's also one of the most commonly found products used in anti-ageing and anti-wrinkle skin creams for this very reason.
More simply put, you can think about it like an ultra-effective injectable moisturiser as opposed to a filler.
Profhilo is usually used on the face and neck where sagging skin and wrinkles are most visible. However, it can be used anywhere that you want firmer, younger-looking skin.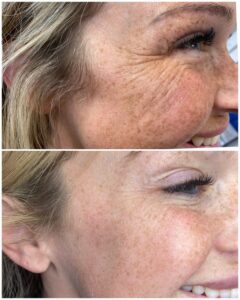 How Does Profhilo Work
As you age, your body naturally begins to produce less and less hyaluronic acid, collagen and elastin. All three of these are responsible for the overall firmness and volume of your skin. Hence the reason why, as we age, we develop lines and wrinkles in our skin.
Profhilo was designed specifically to counteract this and re-model the skin to appear fuller and firmer once again.
It works by being injected just below the surface of the skin. Once injected, it naturally spreads out and is absorbed over about a 4cm area of the skin. This means, that you can usually have the treatment applied to your whole face with around about 10 injection sites.
The bio-aesthetic point (BAP) technique is used when injecting Profhilo and was developed specifically for use with it. The BAP technique is a sequence of 5 injection sites on each side of your face, developed using CT scans to produce the most effective and even spread of the Profhilo.
Because it is not a filler, there are no lumps or bumps to worry about, and there is no need to massage it in afterwards either.
Treatment with Profhilo is undertaken in two separate sessions four weeks apart from one another to achieve the best possible results. This is because even though your body will naturally produce more elastin and collagen after this time, the Profhilo itself will only remain present for around about 4 weeks after being injected.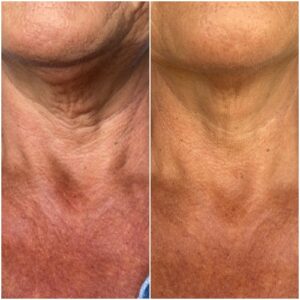 The Effect of Hyaluronic Acid on Your Skin
Profhilo has this effect because the hyaluronic acid within it is hydrophilic. This means that it draws water into the area that it is present. So, when you have Profhilo injected into tired or sagging skin, water will be drawn into the area re-hydrating it in the process. This takes place somewhere between 3 and 5 days after first being injected.
Profhilo also has the secondary effect of increasing the production of collagen and elastin. This will begin to take place naturally over the next few weeks with the full results of the treatment usually being most visible after about 8 weeks.
So, in short, Profhilo draws more water into the skin to increase both the volume and tightness that is visible, without the need for permanent or semi-permanent fillers. Unlike fillers that sit between layers of skin, Profhilo hydrates and rejuvenates deeper layers of skin as well, helping the effect last for longer.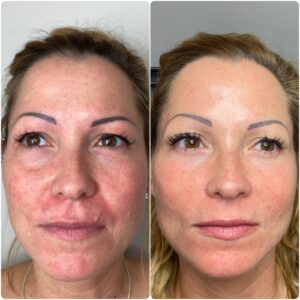 Is Profhilo a Filler?
No, Profhilo is a bio-remodelling agent. Even though both fillers and Profhilo are made using hyaluronic acid, they are vastly different in the way that they work. Fillers are essentially much thicker hyaluronic acid gels that do what the name suggests and fill the space in the skin. Profhilo on the other hand is a lot thinner and spreads out once you've injected it, encouraging a much bigger area of the skin to begin absorbing water and rejuvenating the skin's production of collagen and elastin.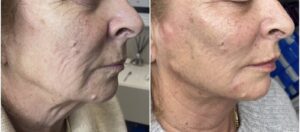 How Long is Recovery After Profhilo Treatment?
There is no real recovery time as such after the treatment with Profhilo. You can mostly go about your day as normal following treatment. However, you shouldn't aim to strain too much on the first day to allow the Profhilo to distribute itself evenly throughout the injection sites. You should also avoid intense and direct UV exposure for the first few days. It is also recommended that you aim to avoid very steamy showers, steam rooms and saunas for the first few days as well.
How Long Does Profhilo Last?
As mentioned before, the treatments will take place 4 weeks apart with the most intensely visible results after about 8 weeks from the first treatment. However, visible results will last anywhere up to six months and beyond where treatment can be administered again as needed.
Is Profhilo Safe?
Profhilo is very safe to use for several reasons. Firstly, because of the way that the dual forms of hyaluronic acid are bonded, the L-HA is released very slowly. What this means for you is that Profhilo is very biocompatible, meaning there is extraordinarily little chance of triggering an inflammatory or autoimmune response.
Due to the BAP technique used to inject Profhilo, most people can have their entire face treated with just 5 injections on each side, spread widely apart from one another. This means less soreness and swelling post-injection for you as well as being far quicker and more comfortable to administer.
As with all aesthetics procedures, however, there is a small chance you might experience a small amount of stinging and minor inflammation at the injection site afterwards. However, in the very rare instances that these do occur, these side effects usually subside very shortly afterwards.
You should also be aware that Profhilo is not recommended for women who are currently pregnant or who are breastfeeding.
And finally, because Profhilo is hyaluronic acid based, if you are allergic to hyaluronic acid you should not use it under any circumstances.
Book an appointment!
So, if you like what you've read and are thinking that Profhilo treatment might be the answer to your skin problems, or if you have any further queries or questions, then absolutely do get in touch with me and I'll be more than happy to help or arrange an appointment.
See you soon – Dr Ranjbar.